Avalanche Skills Training (AST1)
AST1 is an industry certified course based on the guidelines and specifications of Avalanche Canada, and is a MUST for anyone recreating in the back country. This course is the national standard for entry-level avalanche training and decision making in avalanche terrain.
Frozen Pirate believes in small group training (preferably your riding group) and specializes in private classes. Even though it was not intentional, this works very well in our current environment.
Our small class sizes allow for a more safe and personal experience which allows students too feel open and comfortable with the learning environment. We believe small classes are the key to the first successful steps in learning about avalanche safety.
Students will participate in a minimum of 7 hours of class time and one full day in the field.
Typically we like to break the classroom hours into two separate sessions, as it can be quite a lot to take in.
The favourite option is to have the classroom sessions on Friday and Saturday nights with the field day on Sunday. The allows for the full course coverage while allowing students to ride on their own for a day on the Saturday
Have a difficult or unique schedule? We specialize in custom work and will do what ever we can work within your needs and desires. Contact us to see how we can arrange a custom course and or weekend for you.
The course will cover topics such as: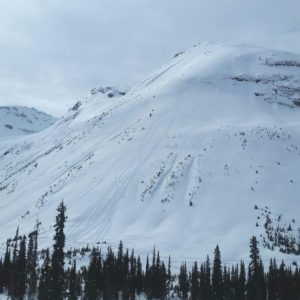 Understanding avalanche formation and release
Identifying avalanche terrain
Travel techniques and terrain management
Companion Rescue
ATES Terrain Ratings, Avalanche Bulletins and Danger Rating
Available Resources
Understanding your limits and where you fit as a decision maker
Human factors and how they relate to decision making
Costs:
Minimum group size is 6 for a private class although we also hold open intake courses in which solo or smaller groups can be joined together. Send us an email, we can handle almost any request.
Basic AST1:
Includes 7 hrs of class time and one full field day. We typically break the class time into two evening sessions as described above.
We are continuing on this season with some of the lowest pricing in the industry. The AST1 is $350 plus gst.
We specialize in private bookings with a minimum of five students. Don't have the minimum but still want to rock a private course? No problem. Our base cost is the same.
All payments must be made in full at the time of booking to secure the space and selected date. Payments are best made via etransfer. As winter is short and there are only so many days to operate, we have a zero cancellation policy if measures our beyond the control of the Frozen Pirate Team.