Avalanche Skills Training (AST1)
AST1 is an industry certified course based on the guidelines and specifications of Avalanche Canada, and is a MUST for anyone recreating in the back country. This course is the national standard for entry-level avalanche training and decision making in avalanche terrain.
Frozen Pirate believes in small group training (preferably your riding group) and specializes in private classes. Our small class sizes allow for a more personal experience which allows students too feel open and comfortable with the learning environment. We believe small classes are the key to the first successful steps in learning about avalanche safety.
Students will participate in a minimum of 7 hours of class time and one full day in the field..Typically we like to break the classroom hours into two separate sessions, as it can be quite a lot to take in. The favorite option is to have the classroom sessions on Friday and Saturday nights with the field day on Sunday. The allows for the full course coverage while allowing students to ride on their own for a day on the Saturday…or better yet, turn it in to a Frozen Pirate Weekender and throw in a day of some amazing guided sledding into the middle of the course. See below for more information.
Have a difficult or unique schedule? Contact us to see how we can arrange a custom course and or weekend for you.
The course will cover topics such as: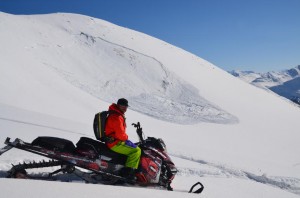 Understanding avalanche formation and release
Identifying avalanche terrain
Travel techniques and terrain management
Companion Rescue
ATES Terrain Ratings, Avalanche Bulletins and Danger Rating
Available Resources
Understanding your limits and where you fit as a decision maker
Human factors and how they relate to decision making
Costs:
Minimum group size is 6 for a private class
Basic AST1:
Includes 7 hrs class and one full field day.
$325 + taxes
non-refundable deposit applies to all pre-bookings
The AST1 Weekender:
Includes 7 hrs class, one full course field day and one day of general mentorship on the mountain. This options allows for a good mixture of learning and implementing your new skills while enjoying the backcountry that Valemount is famous for.
$450 + taxes